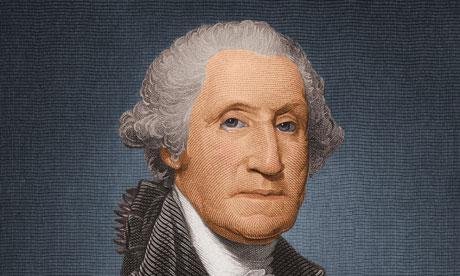 Portrait of George Washington, whose personal copy of the US Constitution and Bill of Rights fetched $9.8m at auction. Photograph: Stock Montage/Getty Images
George Washington's personal copy of the US constitution and bill of rights sold for $9.8m (£6.3m) at auction on Friday, setting a record for any American book or historic document.
Bidders at Christie's New York salesroom and others on the telephone competed for the first US president's signed, gold-embossed volume dating to 1789, which had a pre-sale estimate of up to $3m.
The non-profit Mount Vernon Ladies Association of the Union, which maintains the historic Mount Vernon estate in Virginia that was Washington's home and is now open to the public, was the successful bidder.
"The unique book had been in the Mount Vernon library until 1876, and will soon be returned to that library," said Chris Coover, senior specialist of books and manuscripts at Christie's.
The bound volume was Washington's personal copy of the Acts of Congress and is noteworthy for his bold signature marking it as his own.
The Acts of Congress include the Constitution, whose preamble promises to "secure the blessings of liberty to ourselves and our posterity," and the Bill of Rights, the first 10 amendments to the constitution, which establish such fundamental liberties as the right to free speech, press, assembly and religion.
Christie's described the book as being in near-pristine condition after 223 years. It was specially printed for Washington in 1789, his first year in office as president.
The margins include Washington's handwritten brackets and notations highlighting key passages concerning the president's responsibilities.
The Acts of Congress volume was sold from Washington's library at Mt Vernon in 1876 and eventually bought at auction by collector Richard Dietrich in the 1960s. It was being sold by the family's estate.
Similar volumes created for Thomas Jefferson, the first secretary of state and third US president, and attorney general John Jay, are in Indiana's Lilly Library and a private collection, respectively.
Rare books and manuscripts have achieved impressive prices in recent years.
An autographed manuscript of Lincoln's 1864 election victory speech sold for $3.4m in February 2009, which set a record for an American manuscript at the time. A 1787 letter written from Washington to his nephew on the subject of the ratification of the Constitution fetched $3.2m in December 2009.
You Might Also Like :