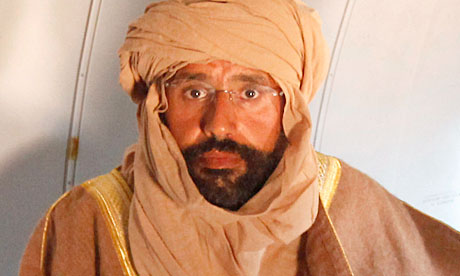 The man who led the fighters that captured Saif al-Islam has said that the late dictator's son tried to escape arrest by pretending to be a camel herder.
"When we caught him, he said, 'My name is Abdul Salem, a camel keeper,'" said commander Ahmed Amur on Sunday. "It was crazy."
His unit, from Zintan's Abu Bakar al-Sadiq brigade, had been patrolling the vast southern desert of Libya for more than a month when it was given a tip-off late last week that Saif al-Islam was close to the town of Obari.
"We knew it was a VIP target, we did not know who," said Amur, who worked as a professor of marine biology in Tripoli before the war.
He said rebel units with pickup trucks mounted with anti-aircraft guns deployed in ambush positions in the desert near Obari, a small town that lies astride roads leading to both Algeria and Niger.
As the informant had predicted, two Jeeps came into view at lunchtime on Friday, surging through the desert near the main highway that leads to Niger.
"When we saw the first car we fired shots ahead of it, not to hit, as a warning. It stopped. Then the second car belonging to Saif came," he said, speaking in English. "We shot warning shots, he (Saif's car) stopped in the sand. Saif and his aide came out of the car."
He said rebel fighters approached on foot, Saif threw himself face down and began rubbing dirt on his face. "He wanted to disguise himself," he said.
Amur raced up to him and ordered him to stand up, finding himself face to face with Saif al -Islam.
But the most notorious son of the late dictator claimed he was not one of the world's most wanted war crimes suspects, but a simple camel herder – Abdul Salem being the equivalent of a British "John Smith".
"His face was covered (with dirt), I knew who he was," said Amur. "Then he said to us, 'Shoot.' When the rebels refused to shoot, and identified themselves, Saif told them: 'OK, shoot me, or take me to Zintan.'
"We don't kill or harm a captured man, we are Islam," said Amur, still clad in the green combat jacket he wore when making the arrest. "We have taken him here to Zintan. After that, our government is responsible."
Zintan was on Sunday hemmed-in by checkpoints set up by its fighters, whose units fought some of the toughest battles of the war, ending in their attack on Tripoli in August.
Omran Eturki, leader of Zintan council, says Saif must face trial in Zintan's own courthouse. "We can try him, it will not take too long, we don't need any new laws," he said, referring to questions over Libya's current legal limbo. "They are Zintanis who captured him so they will have to have him here."
Eturki said it was better to try him in Libya than send him to the international criminal court, which has indicted Saif for war crimes and crimes against humanity.
"The judicial authorities can appoint the judges and the lawyers, but the trial must be here. As long as there is justice, that is it."
He said Saif would get a fair trial. "There is no point to make a revolution for justice, and then you become the same killers. All the people of Zintan want to see him have a proper trial. We don't like to harm him. If we wanted to kill him we could kill him. We captured him so I think we have the right to try him."
You Might Also Like :